The company offers semiconductor building blocks for robots and consulting services specialized in the Robot Operating System (ROS). Will grow its business in the semiconductors and autonomous mobility fields through hardware acceleration.
| | |
| --- | --- |
| Press release (English) | link |
| Nota de prensa (Español) | link |
VITORIA-GASTEIZ, Spain – Acceleration Robotics —a robotics semiconductor startup based in the Basque Country, Spain— has announced that it's expanding to Asia and taking over TechnoYantra, an Indian robotics consulting firm based in Pune, specialized in the Robot Operating System (ROS). Acceleration Robotics considers India a hotbed for robotics and semiconductors and thus aims to bolster its position in this emerging market. With this takeover, it is reinforcing its team's tremendous robotics experience and will extend its existing robotics consulting services to the growing Asian robotics market. Having collectively served over 20 clients over the past few years including Xilinx and AMD, Acceleration robotics aims to expand its portfolio of Intellectual Property (IP) cores and semiconductor building blocks for robots to the autonomous mobility field.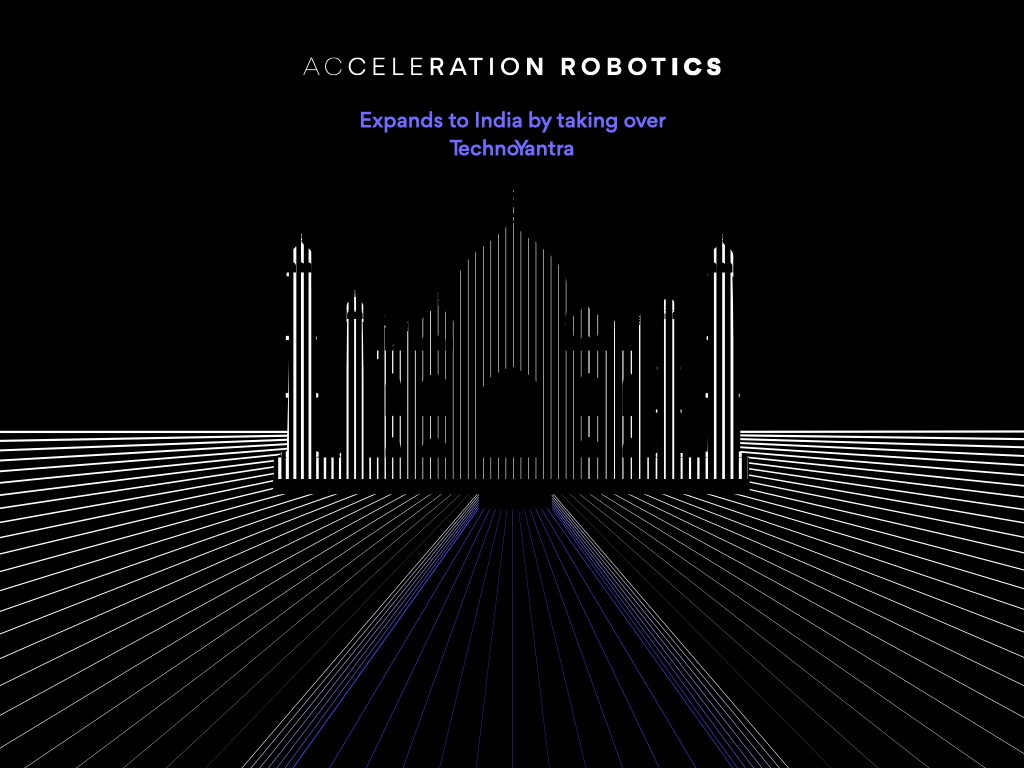 Acceleration Robotics' decision is backed by India becoming a flourishing market across two verticals: Robotics and Semiconductors. According to the LogisticsIQ AGV-AMR market report[1], the Indian robotics mobility market is expected to grow to 200 million USD in the next five years from 19 million USD in 2021. The International Federation of Robotics (IFR) also recently reported[2] a new record in robot sales worldwide. 74% of all newly deployed robots in 2021 were installed in Asia. India is also making concentrated efforts to boost its domestic chip sector as evidenced by the recently approved incentive plan worth $10 billion to attract semiconductor manufacturers. A recent report claims that the Indian chipset market is set to grow by almost 200% in the next 5 years. With the government's eye set on encouraging the semiconductor industry, an ever growing presence of the robotics community and industry, and the second-largest domestic market in the world, India presents Acceleration Robotics with a unique opportunity for growth.
---
"Acceleration Robotics is at the nexus of the semiconductor market and robotics community. We thus look forward to positioning ourselves in India, given her recent focus on semiconductor manufacturing and attracting semiconductor manufacturers to her. Having been a robotics consultancy over the past three years, we also have observed a large demand for robotics software development within the Indian and Asian market. With our unique IP and experience, in hardware acceleration and ROS respectively, our aim is to serve both semiconductor manufacturers and mobile robot manufacturers." – Gaurav Vikhe.
TechnoYantra is a 3 year old robotics consultancy led by Prateek Nagras and Gaurav Vikhe. Having served clients globally, the team and leadership at TechnoYantra joins the one at Acceleration Robotics, grouping together some of the top experts on ROS globally. Prateek will be stepping up as the Chief Executive Officer (CEO) of the whole group while Gaurav will become the Chief Product Officer (CPO). Víctor Mayoral-Vilches as the original founder and chief architect of Acceleration Robotics will take on the role of Chief Technology Officer (CTO) of the company. The group is behind leading hardware acceleration efforts in robotics worldwide and supported by an advisory board composed by various individuals. This includes Vijay Janapa Reddi, an associate professor at Harvard University and Lentin Joseph, a leading robotics consultant and the author of multiple books on ROS.
"When I started TechnoYantra in 2019, the ROS robotics industry in Asia was just getting started, but since the pandemic as people have become more and more accepting of working together with robots, the robot deployments have grown exponentially. Given the struggles of the semiconductor industry to efficiently cater to this demand, this seemed to me to be the perfect time to start a new journey with Acceleration Robotics and bridge the gap between semiconductor manufacturers and ROS." – Prateek Nagras.

Acceleration Robotics will continue providing semiconductor building blocks for robots with particular focus on ROS 2. The team in Europe will continue expanding its consulting services to international clients and developing new IP products. The team in India will target the Asian robotics market and the autonomous mobility market internationally.

"Most robotic companies using ROS in real applications these days demand additional compute capabilities in their perception and motion planning tasks. Our hardware acceleration solutions respond to this demand while delivering ROS 2 API-compatibility, so that developers don't have to re-invent the wheel or change a single line of code. We believe strongly that hardware acceleration will bring robotics and ROS 2 to the next level, making robots faster and more efficient.  We are happy to expand to the largest market in robotics (Asia) with a team that matches perfectly our know-how and vision. " – Víctor Mayoral-Vilches, founder of Acceleration Robotics.
About Acceleration Robotics
Acceleration Robotics is a firm focused on designing customized brains for robots to hasten their response time. Founded by top robotic experts to deliver semiconductor building blocks for robots, the company leverages GPUs and FPGAs to create custom hardware that speeds up a robot's operation.