The "Robotic MCU" project aims to create an MCU that has a native ROS 2 hardware implementation and delivers lower latency and additional real-time capabilities
| | |
| --- | --- |
| Press release (English) | link |
VITORIA-GASTEIZ, Spain – Acceleration Robotics —a robotics semiconductor startup based in the Basque Country (Spain) that designs robot compute architectures to make robots faster — will collaborate with PlanV —a German chip design firm specialized in the RISC-V instruction set architecture (ISA). Both will jointly design and develop an open source software and hardware ROS 2 microcontroller unit (MCU) powered by RISC-V that delivers lower latency and additional real-time capabilities.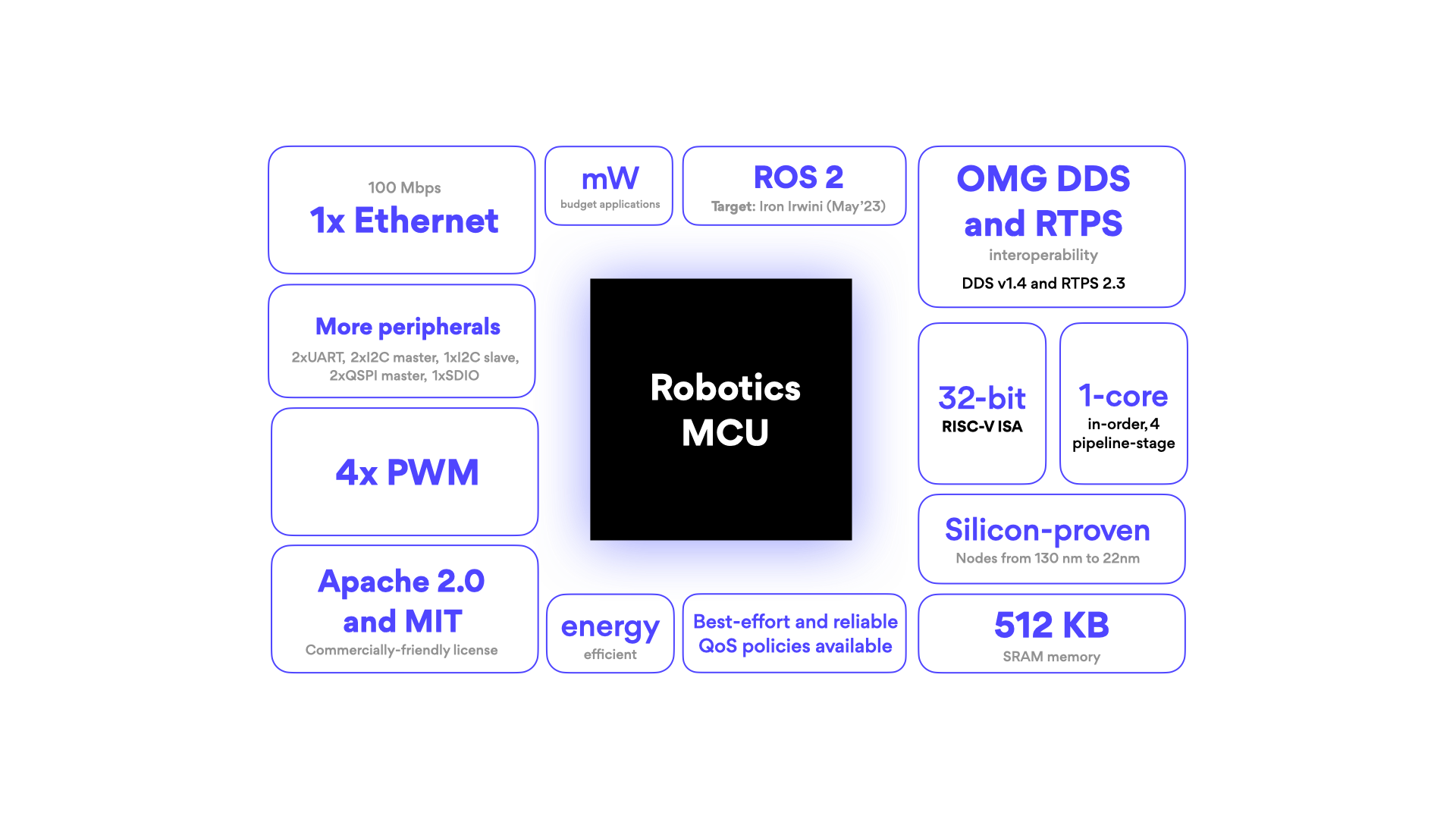 A microcontroller (MCU for microcontroller unit) is a small computer that contains one or more CPUs (processor cores) along with memory and programmable input/output peripherals. MCUs are typically more specialized than microprocessors (MPUs), as they integrate functions which are specific to a certain domain or area of application.
Current popular strategies in robotics for integrating microcontrollers involve complex bridges that break interoperability and that introduce much complexity delivering a hard to optimize and maintain result. The "Robotics MCU" project aims to tackle these problems by focusing on creating a native ROS 2 hardware implementation in an MCU. One that includes dedicated accelerator hardware that supports the computations needed for robotics. The "Robotics MCU" will be developed as part of the ROS 2 Hardware Acceleration Working Group and prototyped first into an FPGA and later into a physical chip.
"Though microcontrollers are generally accepted as programmable specialized devices, most MCUs used in robotics today have general purpose building blocks. There is not much robotics-specific in any of them. Most roboticists today use ROS 2 and the avenues to enable this in microcontrollers are often complex and hard to optimize for latency and real-time. Our goal is to design an open source and hardware MCU that has built-in robotics capabilities and we will do so by building upon open standards like ROS 2 and RISC-V" — Víctor Mayoral-Vilches, founder of Acceleration Robotics.
"The single most interesting feature of the RISC-V ISA and related open-source implementations is the possibility of building extensions and customisations. The growing field of hardware accelerated robotics is the perfect playground where to experiment and demonstrate the capabilities, flexibility and maturity of these technologies." - Massimiliano Giacometti,founder and MD of PlanV.
About Acceleration Robotics
Acceleration Robotics is a firm focused on designing customized brains for robots to hasten their response time. Founded by top robotic experts to deliver semiconductor building blocks for robots, the company leverages GPUs and FPGAs to create custom hardware that speeds up a robot's operation.
About PlanV
PlanV is a young engineering firm offering design services in the area of FPGA and ASIC development, with particular focus on RISC-V and open-source hardware. PlanV team members are expert designers and computer scientists, with strong academic background and active participants in the hardware open-source community.